Description
Multi-functional 7 in 1 RF cavitation lipo laser vacuum velashape machine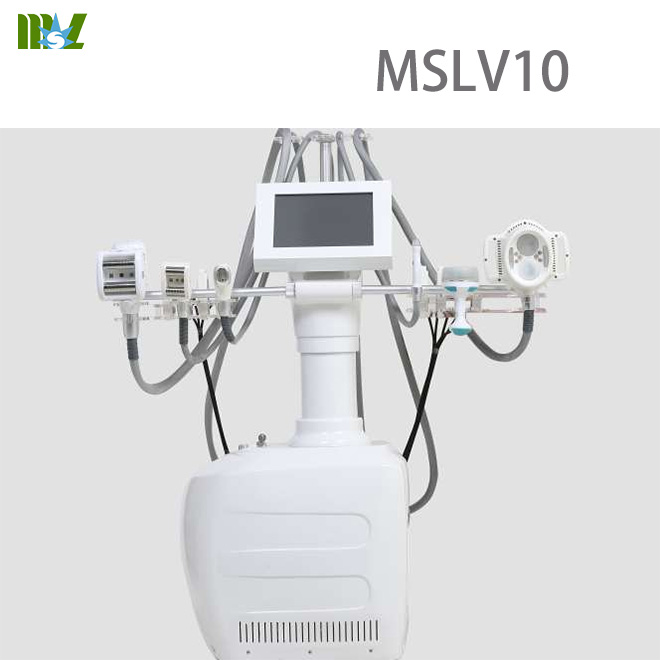 The operation handles features
1. Combined with bi-polar RF and infrared, Blue and Green energy; the vacuum
suction coordinated with mechanical outer automatic rollers;
2. The RF and Red, Blue and Green light therapy generate heat, increasing the
oxygen content of skin cells.
3. The special vacuum roller massage soothes the skin and makes the heat
conduction effect better.
4. It increases the metabolic rate effectively and reduces fat accumulation through
lymphatic drainage.
5.It increases the skin tissue elasticity and makes the skin more smooth and delicate.
6. Laser for fat reduction, use the 650nm soft laser to destroy the deep fat cells, broke
the cell membrane, change the fat to triglyceride, then leave out the body thanks
to metabolism.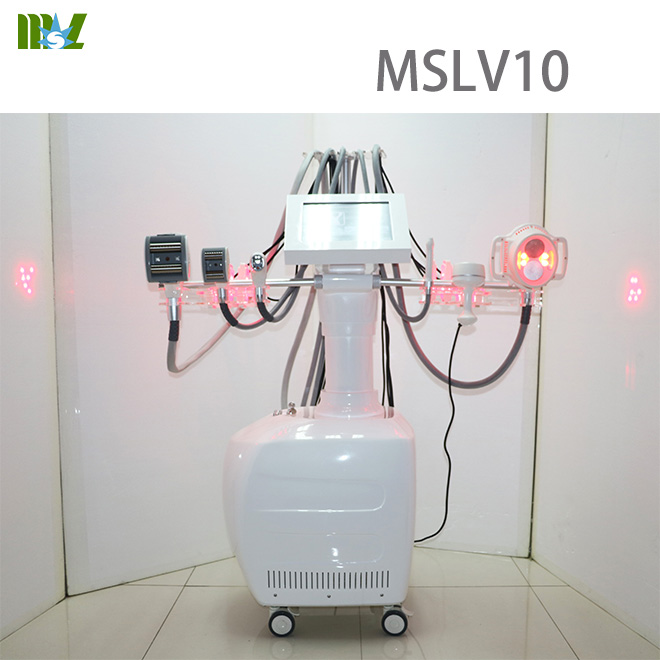 The Advantages of Instrument
1.RF 2* 40KHZ cavitation vacuum IR BIO all in one handle
2.The newest hi-tech body contouring systems
3.Most effective slimming machine with all popular functions
4.Infrared light heats the tissue up to 2 mm depth
5.Radio frequency (RF) heats tissue from 5~15mm depth
6.Vacuum /- massage mechanisms enable precise targeting of energy to the tissue.
7. Mechanical massage provides lymphatic drainage (dermal and hypodermal)
8. Outer automatic roller with discontinuous will make patients more comfortable
during treatment
9. This machine can treat for whole body: arms, thighs, buttocks, neck,face,eyes,etc.
10. Can be used for 3 clients at the same time
11. Combined with the velashape velasmooth, lipo laser slimming, RF ultrasonic
cavitation and BIO for body contouring, shaping, fat and cellulite reduction, etc.
12. Anti-aging, wrinkle removal, skin lifting&tightening, etc.
13. 3 touch screens with fashion modern design
14. 6 units of operation handle and 8 pieces of large lipo
laser pads.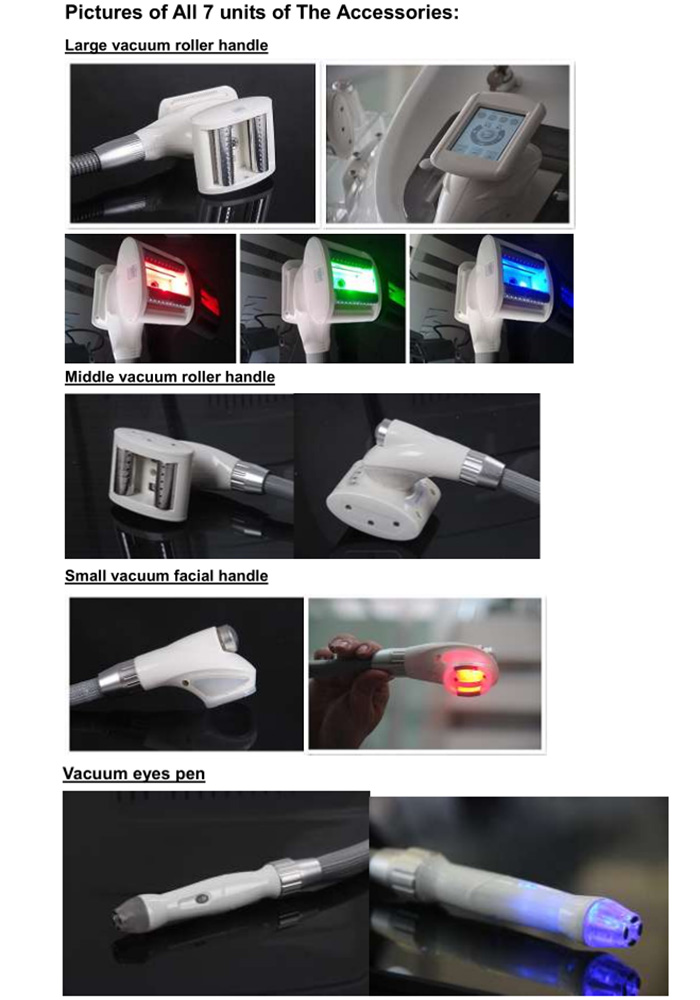 Technical Parameters:
Input voltage: AC220V, 50HZ/AC110V, 60HZ
Power consumption: 1000W
Fuse size: 10A
Large vacuum roller handle:
Vacuum pressure: 0-100 (KPA)
Infrared light wavelength: 700nm
Green light wavelength: 560nm
Blue light wavelength: 490nm
Roller speed: 50r/min
R.F Energy: 30W
R.F Frequency: 5MHZ
Middle vacuum roller handle:
Vacuum pressure: 0-100 (KPA)
R.F Energy: 20W
Roller speed: 30r/min
R.F Frequency: 5MHZ
Infrared light wavelength: 700nm
Small vacuum facial handle
Vacuum pressure: 0-100(KPA)
RF frequency: 5MHZ
Infrared light wavelength: 700nm
Vacuum eyes pen (same as small vacuum facial handle )
Small 40KHZ cavitation handle:
Cavitation frequency: 40KHZ
Large 40KHZ cavitation handle:
Cavitation frequency: 40KHZ
RF frequency: 2.44MHZ
BIO frequency: 200HZ~500HZ
Pulse width of BIO: 100us~300us
Lipo laser pads:
Lipo laser wavelength 650nm
Power: 150nw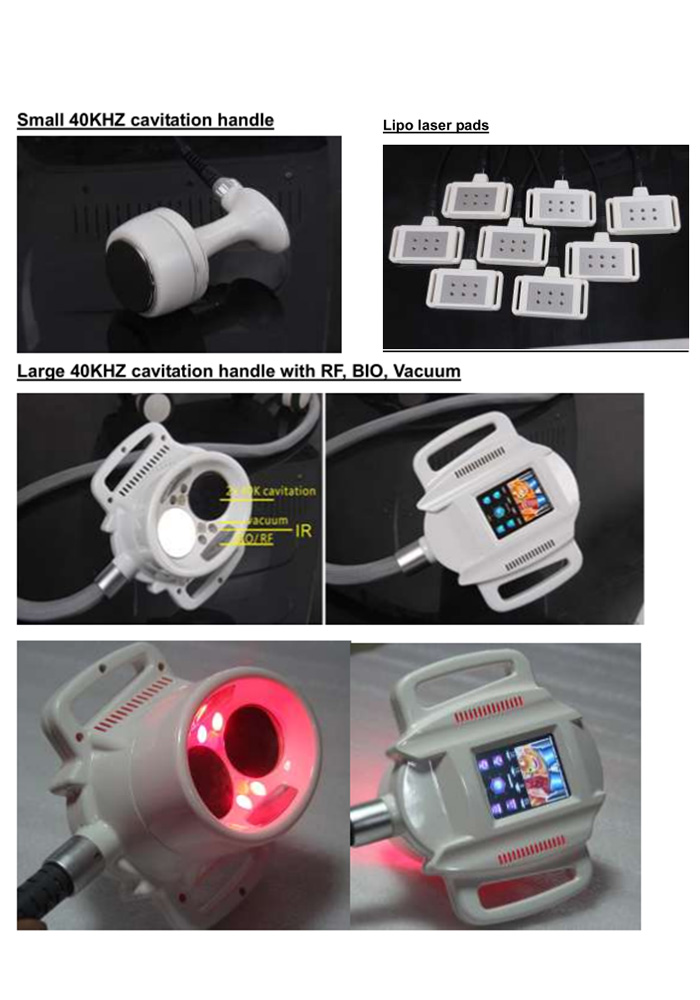 Functions
1. Body slimming, contouring & shaping
2. Fat and cellulite reduction
3. Skin Tightening
4. Wrinkle Removal
5. Warm vacuum cellulite massage
6. Eyes' area treatments
7. Face wrinkle removal & lifting
8. Promote cell metabolism, improve blood circulation
9. Increase skin elasticity