Description
Portable Diamond Dermabrasion Unit MSLDM02
??
Best Diamond Dermabrasion MSLDM02
Supplies and Accessories
Diamond Dermabrasion Machine x 1
PVC vacuum hose 6*4 x 1
Diamond pen x 3
Pens box & foam x1
Diamond Head x 9
Heads box & foam 1
O-rings x 3
Cotton Filter x 1package
Power cord x 1
Fuse x3
Manual x1
??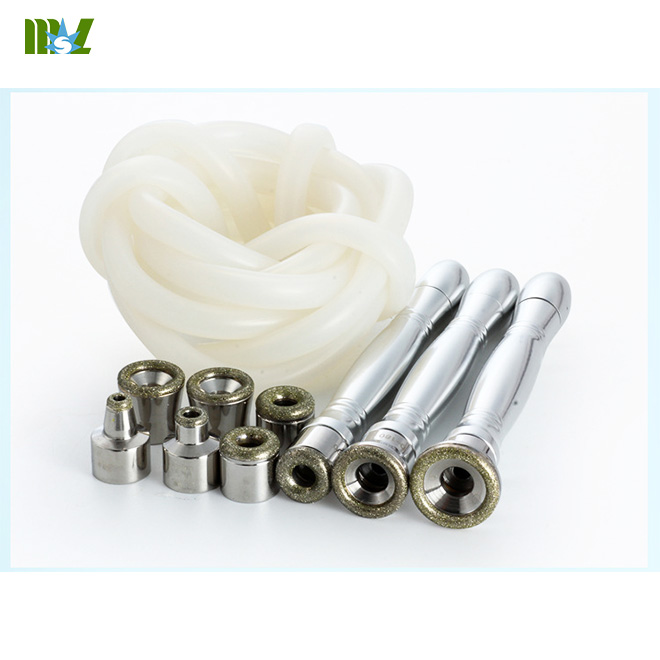 ??
Use Diamond Dermabrasion MSLDM02 Specifications
??
Voltage: 240V/50/60Hz ??
220V/50/60Hz ??
115V/60Hz ??
Power: 65 VA Fuse: 2A
Operating Instruction for Diamond Dermabrasion
??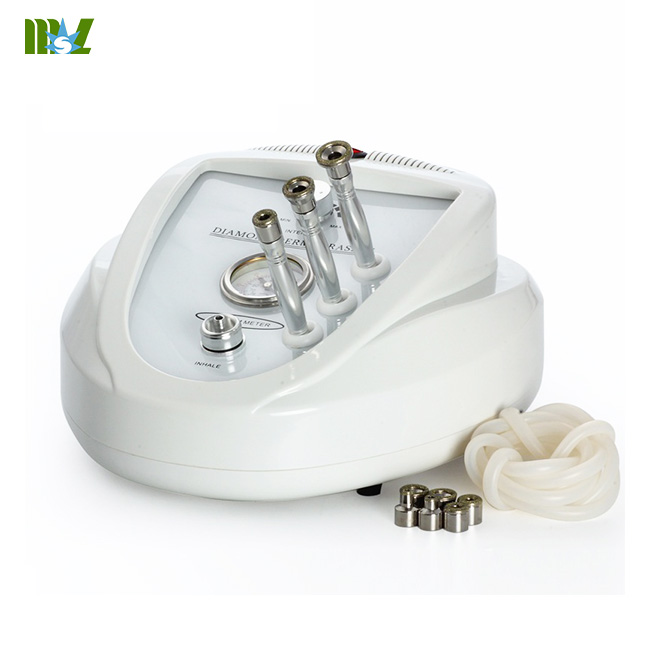 ??
1. Push in the movable ring of copper nozzle at the hand piece, and pull out the 6×4 size vacuum hose.
Then push in the black plastic ring on the vacuum hose.
2. Put a drop of cream or milk lotion on the vacuum hose nozzle, push in the movable ring and insert in
the vacuum hose to the limit.
3. Insert a cotton swab into the Diamond Head, then tight up the Diamond Head on the hand piece.
Remove the cotton swab after every treatment.
4. Turn on the power switch.
5. Adjust the Vacuum intensity by Vacuum Regulator according to the following reference table, the intensity
displays on Vacuum gauge and check with the client for comfort.
??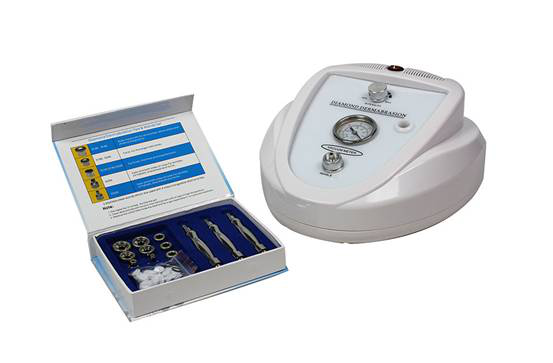 ??
11. Had major surgery within the past year.
12. Asthma
13. Cold, Flu, or Upset Stomach
14. Any serious illness or disease not listed above.
Do not use on these areas:
1. Sensitive Skin
2. Skin Rash
3. Damaged, Inflamed, or Infected Skin.
4. Surgical scar less than 12 months old.
5. Skin Swollen.
6. The probes can not point to Eye ball.
7. Genitals.
??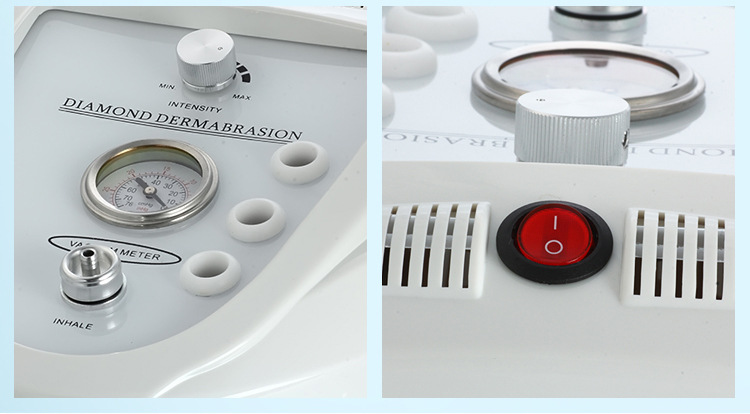 ??
1. Always begin treatment conservatively and observe the effects by the touch and appearance
of the skin. A vacuum power that is too high or too big may cause an inflammatory response.
2. Edema and erythema can occur following treatment, but will resolve in few hours.
3. Overly aggressive techniques can cause mild flaking over the next 3-4 days. Epidermis that is treated
too aggressively can lead to bleeding in the superficial dermis.
4. Diamond Dermabrasion should not be used on sensitive areas such as eyelids. The eyelids should be
closed at all times during the procedure and may be covered with damp cotton pads.
5. The following areas are considered inappropriate for treatment: Skin tumor, moles, birthmark, angioma,
lips, eyes, herpes, skin cancer, and liver spots.
??
New Diamond Dermabrasion MSLDM02 Safety Warning
??
Important Notice of Caution before using this machine:
Never operate this equipment on a person has or suffers from the following medical conditions
described below. (The salon or operator may consider having a client sign a waiver to the effect
that he/she is free of any poor health conditions.)
1. Heart Disease
2. Heart Murmur or Irregular Heart Rate
3. Has a Pacemaker or other type of heart rate balancer.
4. Pregnancy
5. Epilepsy
6. Alcoholism
7. Ulcers
8. Disease of Stomach, Intestine, Liver, or Pancreas.
9. Breast Cancer.
10. Undergoing treatment for any form of Cancer.
??
??