Description
??.Brief Introduction
E-light applies three core technology, IPL, RF, and epidermis cooling. It combines the advantage of IPL and RF, in one hand, the skin absorbs IPL energy selectively, and the skin also absorbs RF energy, on the other hand, the RF-surface-touch cooling technology removing the discomfort and complications by high heat of IPL. Therefore, the effect and safety of E-light makes a breakthrough.
??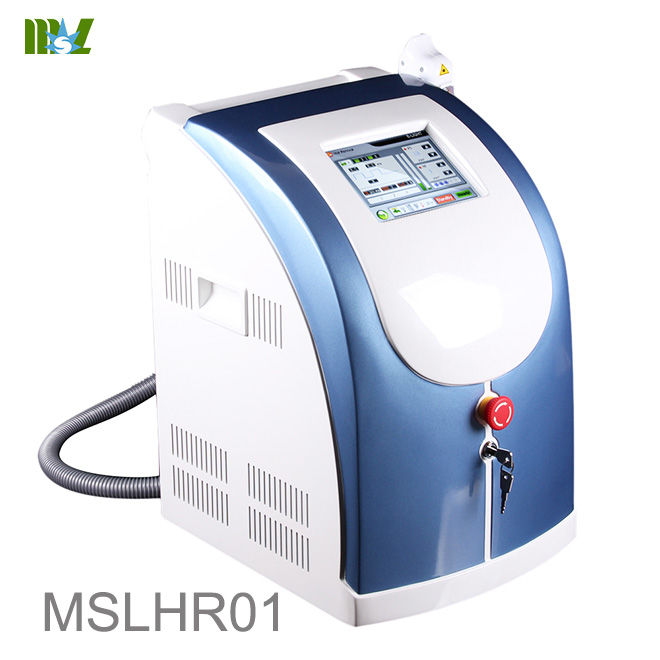 1.portable elight ipl machine MSLHR01 Principle
Applying the technique of IPL and Bi-polar Radio Frequency, the equipment acts on the entire skin corium and connective tissue, stimulates the collagens of different depth to realign and grow, then gets treatment effect. Bio-polar RF release energy at the same time, with the selective absorption for the skin to light energy, various pathological tissues of corium and epidermis creates Photothermolysis effect. Since light energy is far below conventional IPL, the pigment tissue and vascular pathological tissue of the corium and epidermis would absorb more energy without injuring the epidermis, and then remove these pathological tissues better and get the effect.
??
2. portable elight ipl machine MSLHR01 Application??
1. Hair removal;
2. Skin rejuvenation;Wrinkle removal, fact lifting;
3. Removing freckle, age spots, sun spots, chloasma, pigmentation troubles, etc;
4. Vascular removal;
5. Acne treatment.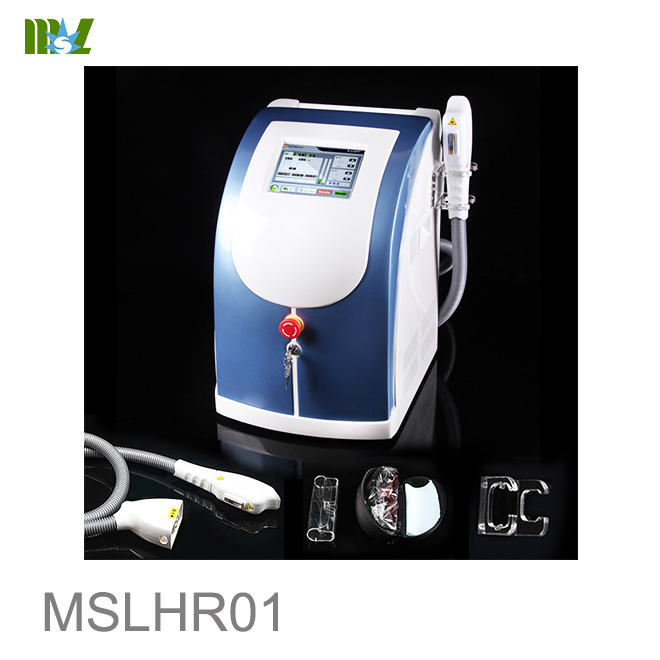 3. portable hair removal ipl machine System Self-checking
The circuit of system entering the self-checking situation when the machine starts, leave the machine carry on the self-checking for 5-10 seconds, then continue the operation.
4. System Classification
Electric shock protection??Grade1 BF Grade
Corrosion prevention liquid??ordinary
Do not use the machine in the environment mixed of flammable narcotic and air or nitrogen oxide mixture.
5. Equipment Consist, Specification, and Accessory List
1. Equipment Consist: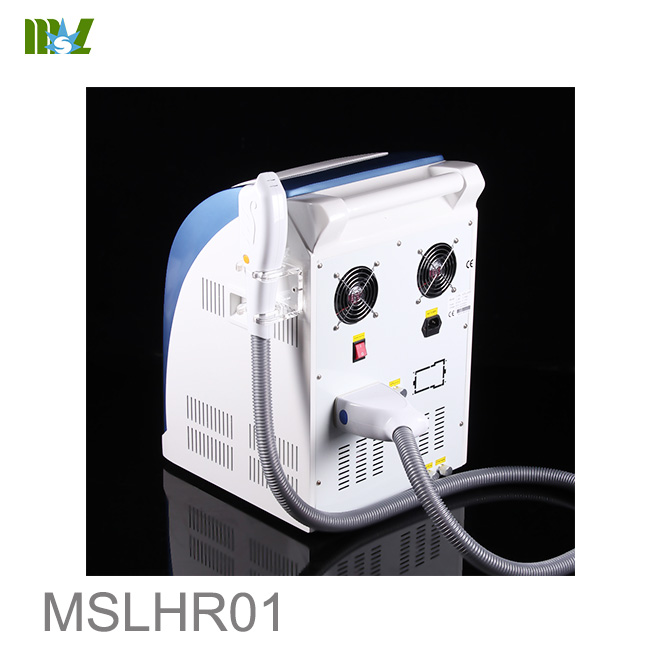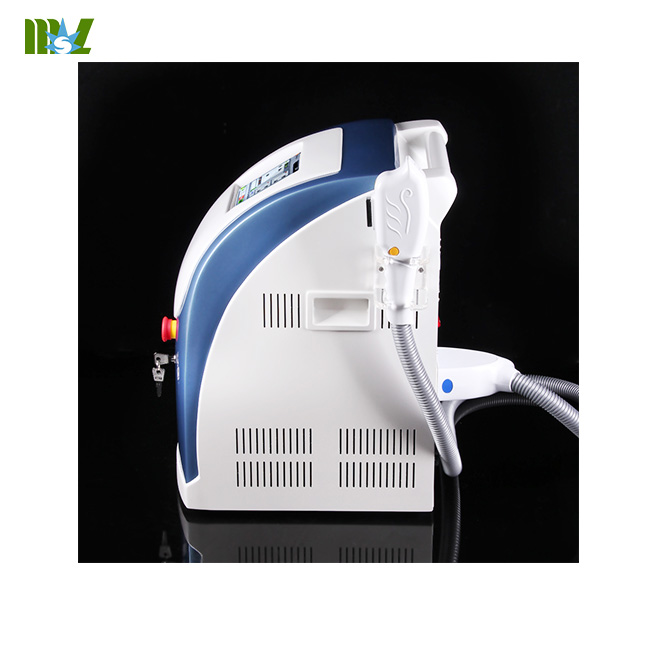 1.1. Mainframe
A. Power supply system
B. Microcomputer system
C. Monitor
D. Cooling System
??
1.2. E-light Handpiece
A. Intense pulsed light source, xenon lamp
B. Reflector and filter
C. Sapphire wave guide
??
2. Technique Specification
Light Energy: 1??50J/cm2
RF energy: 1-25J
SR Spectra: 530-1200nm
Cooling: water air semi-conductor
Spot size: 8×40mm
N.W.: 35kg
Voltage: 110V±220V 10%, 50~60Hz;
??
3. Accessory List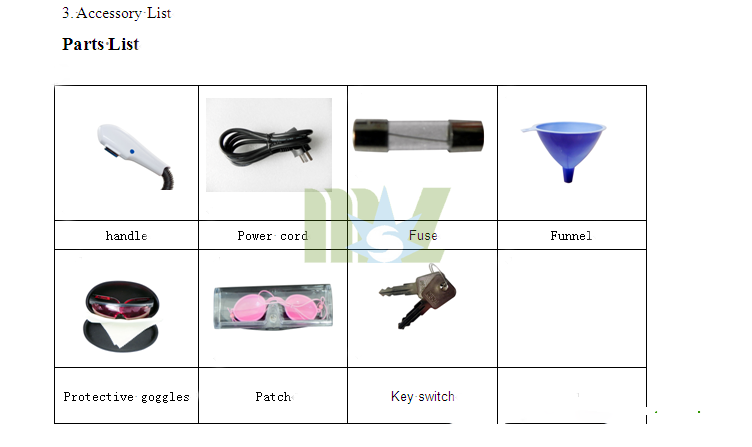 Portable Elight Ipl Machine Specifications
??
| | |
| --- | --- |
| IPL wavelength | 430-1200nm |
| IPL energy | 0-50J/cm2 |
| Short pulse | 5-25J/ cm2 |
| Middle pulse | 5-35J/ cm2 |
| Long pulse | 5-45 J/cm2 |
| Spot size | 8*40mm2, 15*50mm2 (optional) |
| Cooling system | Water semiconductor air cooling |
| Packaging size | 33* 38*46 cm |
| NW | 30KG,aluminium case |
??
Treatment Theory
??
1.The Theory of Permanent Hair Removal:
??
The theory is the energy from IPL acting on the 15mm depth of surface, plus RF to prevent hair growth without hurting the sweat glands. Naturally the hair will be never grown for the hair follicles closed, and having no melanin. Generally, there are 3 cycle of hair growth: Growth Phase, Maturity Phase, Dormancy Phase, and the treatment will be most effectively in hair's Growth Phase, so patients need do the treatment 3-4 times to achieve permanent hair removal.
??
2.The theory of speckles/ freckle/ age spot/ sun-induced freckles removal:
??
To extract and decompose a plenty of pigment from skin depth by taking advantage of IPL, and to impel the pigment's discharge from Lymphatic by taking advantage of RF; some others will be excreted through skin's metabolism.
??
3.The theory of Skin whitening/ lifting/ rejuvenating, pore shrinking, and wrinkles removal:
??
To stimulate the Fiberforming Tissue of the skin's Dermal Layer, promote collagen's forming, and accelerate cell tissue's rearrangement by using IPL RF, so as to achieve the effect of skin whitening, skin rejuvenating, pore shrinking, and wrinkles removal.